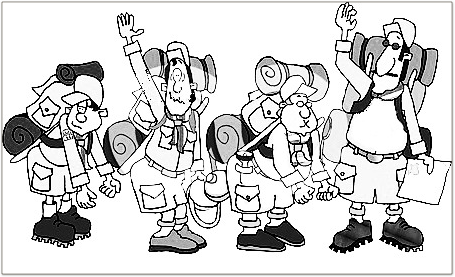 Rules for Walks
The Motueka 50 Plus Walking Group does not accept responsibility for any accident, misadventure, or unforeseen circumstances that may occur during Group activities.
Walkers shall abide by the Leader's and Tail-end-Charlie's decisions. Members who will not follow these decisions will be told that they are no longer part of the trip.
Any person wishing to deviate from the planned walk must discuss with, and get clearance from the Trip Leader and Tail-end-Charlie.
Walkers must carry their own medication, and must carry their personal information card in an easily accessed place in their daypack.
Walkers must carry a basic First Aid kit, a whistle, emergency food, and survival clothing. (See Guidelines)
Walkers leaving the track for a toilet stop should notify someone and leave their pack trackside.
If a walker becomes lost they should stay put and use their whistle to attract attention.
Walkers must leave all gates as found.
Walkers should carry out all rubbish and abide by the Environmental Care Code.
Dogs or firearms are not permitted on walks.
The Group always gets permission to walk on private properties and forests, and members should do all in their power to uphold the good name of the Group and to maintain the goodwill that has been established.
A Leader who considers a walker to be unfit, or not equipped, for a trip, should try to dissuade that member from starting, and has the right to refuse to take them.